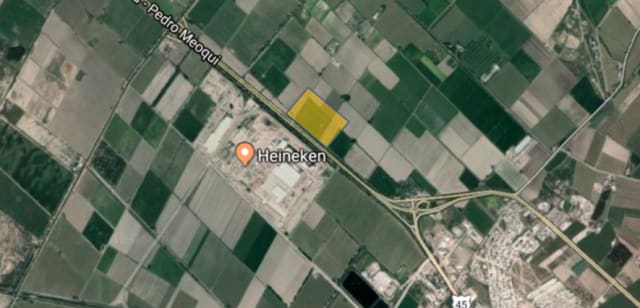 Outside cities are industrial zones and outside industrial zones is farmland with plenty of room for solar fields.
When talking opportunities for solar heated industrial processes, a comment I often get is that the potential users usually do not have land available for a solar field and that solutions therefore need to be designed for rooftop installations.
But heat production doesn't need to take place in the same place as consumption. Existing district heating networks transport low-temperature heat over distances of more than 60 km. In Belgium, a consortium is right now commissioning a 5 km pipeline for transporting steam at 400ºC/750ºF, where costs can be calculated to increase the total cost of heat with less than 1% per transported kilometer if fully utilized for 25 years.
So rooftops are not needed if land is available within a reasonable distance. And there's lots of land available. Looking at aerial photos of cities anywhere in the world they are all laid out the same way: Cities have industrial zones in their periphery and on the other side of the industrial zones are plenty of farmland.
Three possible use cases are shown below where I've marked areas required for Heliac's solar fields to provide a meaningful amount of energy for industrial process heat; turning saltwater into potable water to help alleviate Cape Town's water scarcity (requiring 85ºC), heat for production of Heineken in Mexico (35ºC-77ºC), and finally heat for drying paint on all the cars at Tesla's factory in Fremont, California once it is running at its full capacity of 500,000 cars per year (155ºC-215ºC).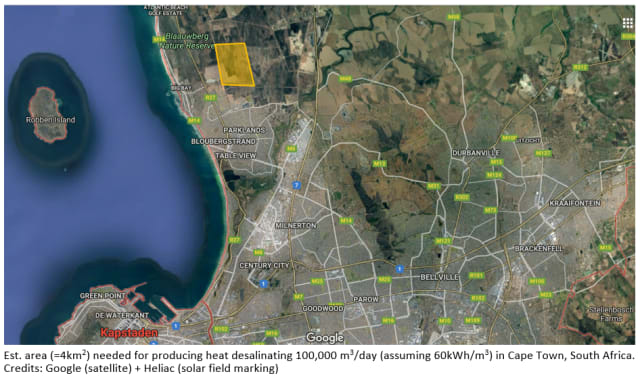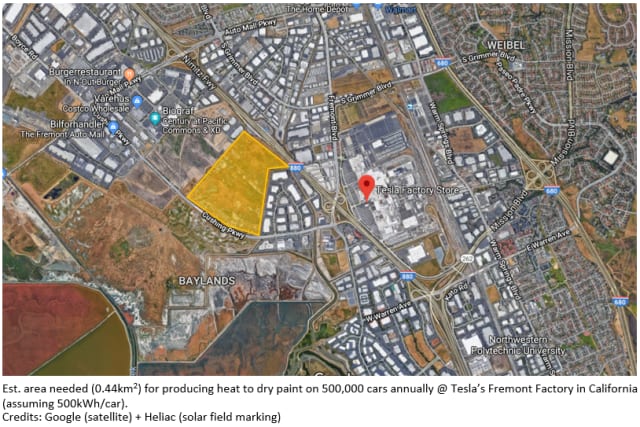 Please note these are just illustrations. I am not an expert in beer brewing, desalination, nor paint shops. I have not talked to the mentioned companies about this. All numbers for the energy consumption of each of these processes are found or deducted from different sources available on the internet (see references below for details). And should be trusted accordingly.
If the illustrations fulfill their purpose, then you might now be thinking something like "hmmm.... that could actually be doable". If you additionally are thinking "maybe this should not always be sold as solar fields to the Heinekens' and Tesla's of this world. Rather, this is a job for infrastructure funds who'd love to generate steady, long-term income from selling sustainable, inexpensive energy" then I tend to agree.
Business models and government policies that can support such an infrastructure approach are the subjects of my next article.
Interested in reading more? Please see the links to my other articles below. Additionally, a 'Like' from you will also be much appreciated as this should help direct more attention at the many business and climate opportunities the market for heat production offers.
Thank you for reading,
Jakob Jensen
HEAT is a series of non-technical, easy-read 3-minutes articles looking at heat's role in energy production, its environmental impact, technologies for sustainable large-scale heat production, and some of the business opportunities these solutions generate.
References
District Heating And Cooling, European Commission, Joint Research Center, 2012
Construction Begins on The Ecluse Steam Network, Indaver, 2017
Solar Desalination Funding Opportunity, Office of Energy Efficiency & Renewable Energy 2017
Energy usage, GHG Reduction, Efficiency ..., Brewers Association
Energy Efficient Desalination, ADNEC International Water Summit, 2018
Temperature At Which Beer Is Brewed, The Physics Factbook, 2008
Simulations Of Energy Savings In Automotive Coating Processes, Marco Gerini Romagnoli, University of Windsor 2016
Automotive Assembly Painting, Michigan Technological University
Cape Town's Increased Water Consumption Is Not Sustainable, News24, 12 October 2018
Clean Energy Investments Exceeded $300 Billion..., BloombergNEF, 2019
World Energy Investment, IEA, 2018
Renewables - Global Status Report, REN21, 2018
Credits
Ecluse 3D Animation, Indaver et al, 2017
Google Maps
About me
I have spent the better part of 20 years investing in cleantech startups. During my career I have probably seen at least 3,000 business proposals, including Heliac's which I was introduced to in 2016 when I headed Climate-KIC Nordic's accelerator program. I found -and still find - Heliac's solution to be by far the best new solution I've ever come around, which is why I joined the company in early 2017.
Disclaimer: I have not double-checked all my sources and I am not an expert in all areas mentioned in the articles. I may therefore have reached conclusions that wiser men and women may know to be inaccurate. If so, I trust they will let me know, so I can become a bit wiser too.